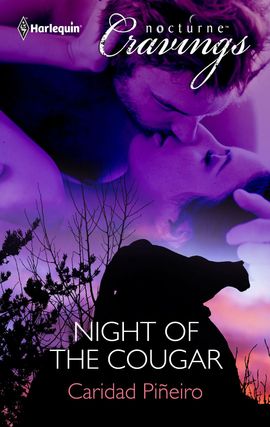 A sexy shifter and one very determined woman are profoundly challenged when logic tries to overrule intense desire. Caridad Piñeiro always manages to grab my complete interest when she writes a story, and her Nocturne Cravings tales combine steamy sensuality with strong feelings of love.
As a reporter for a weekly magazine, Jamie Morrison had felt fortunate one year ago when she was able to obtain an interview with a famous author. Now the editor of the New York City publication wants her to conduct a second interview with Galen Hawke, but she does not want the assignment. Their first meeting went especially well, as their evening was extremely memorable because of an instantaneous sexual connection. Yet Jamie has not been in contact with Galen since their time together as he did not answer her messages, and an accident he sustained within the last year leaves her thinking he probably does not want anyone asking him questions.
Jamie arrives at the mountainous area where Galen lives just as a snowstorm worsens. She barely makes it to his home, but he does not seem to be there at first. When he does appear, the awareness between them is as intoxicating as before. It does not take her long to realize he is not the same man that she previously knew intimately. As the storm intensifies, thus keeping her from going back down the mountain, Jamie must decide if she can accept how much Galen has truly changed.
When Caridad Piñeiro writes a Nocturne Cravings book, lusty passions are prevalent and any paranormal elements are creative. NIGHT OF THE COUGAR certainly has loads of scenes overflowing with heated touches and satisfied sexual yearnings, while the shape-shifting details are original. There is just something about a powerful cat shifter, and Ms. Piñeiro definitely makes her hero into an alpha male with dominant skills which left me tingly. But there is still a very human side to Galen that is caring and tender, and how he shows Jamie this part of his nature is beautifully expressed and had me sighing. There are plenty of real emotions conveyed all throughout the story. Those spoken are often delivered with frank candidness, and I thoroughly enjoyed listening to these two converse back and forth. The unsaid thoughts give further insight to the personalities of Jamie and Galen, and often reveal they are both sympathetic individuals who care more for the other than themselves. When it comes to sex, this couple is exceedingly compatible, as their minds tend to conjure up the same scenarios in which they want to participate. And they fully take part in each sensuously fiery encounter, where gratification is assured. Once again, Caridad Piñeiro rewards the reader with an enchanting love story. NIGHT OF THE COUGAR turns up the heat from the start and the flames only burn hotter with every caress.
Print This Post
posted Friday, August 3rd, 2012