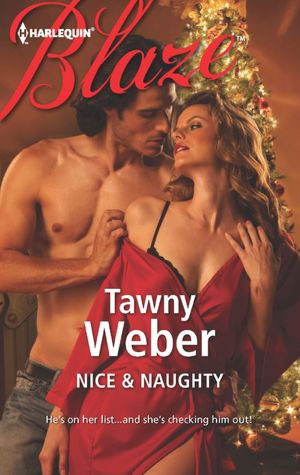 Jade Carson has lived her life as the nice girl. She returned to Diablo Glen when her family needed her. She works in the local library giving lessons in fashion sense on the side. With Christmas coming, festivities are proceeding exactly as planned in this typical small town. There is one problem, though, someone is stealing panties.
Diego Salvador has no choice but to report to Diablo Glen and solve the case of "the panty thief." This super hot bad-boy detective knows his future depends on his success. But when Jade sees him, she decides he is the perfect man to help her be naughty. The only panties he should find are hers.
Tawny Weber will have you laughing the whole way through Naughty and Nice. Diego considered himself a hot shot detective and could not believe he had to investigate the theft of panties. Add to that a cat with penchant for pilfering Christmas decorations and even Diego cannot always keep a straight face. The games afoot in little Diablo Glen and Diego is just the man to help. Jade knows he is just the man needed and resolves to have him helping her as well – to be naughty.
Naught & Nice by Tawny Weber is perfect for the Christmas season. It has the magic of Christmas, the joy of a small town, a hot love affair and a little mystery to add spice. Your Christmas will not be complete if you do not add Naughty & Nice to your stocking. Then decide; which do you prefer? Naughty? Or nice?
Print This Post
posted Thursday, November 29th, 2012