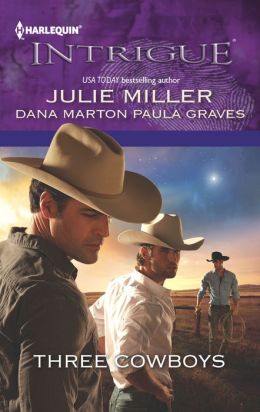 For years, the three McCabe brothers have gone their separate ways. Now all three return home to resolve a family crisis before it is to late for one member of their family.
Julie Miller tells the story of "Virgil." A police detective in Chicago, Virgil "Bull" has not been home in ten years. Only a family crisis could bring him back, but his childhood friend, Tracy Cobb, could keep him there. Tracy has grown into a beautiful, desirable woman.
Dana Marton give us the story of "Morgan." An ex-soldier, Morgan McCabe is only retuning because his brothers asked. Once back home, he finds his former love, Dakota Dayton, and her young son may be just the right incentive to keep him there.
Finally, we have "Wyatt" by Paula Graves. Now the local sheriff, Wyatt McCabe knows he will need his brothers' help to recover their kidnapped sister. Agent Elena Vargas may be the key to her safe return, but Wyatt will have to fight his desire for her.
Julie Miller, Dana Marton and Paula Graves combine their talents in this delightful anthology telling the story of the three McCabe brothers. How can you not enjoy them when you consider their names! All three stories are amazing alone but put together build an incredible picture of three men to whom family means everything. Pick up Three Cowboys by Julie Miller, Dana Marton and Paula Graves and sit back, put your feet up and be prepared to meet some incredible heroes and the women meant for them. Romance at its best – Three Cowboys by Julie Miller, Dana Marton and Paula Graves.
Print This Post
posted Monday, December 17th, 2012