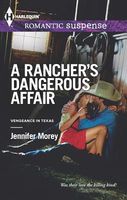 One question after another constantly arises in the second book of the Vengeance in Texas continuity series, and several crucial answers are gradually exposed. There are also numerous sensitive issues that must be dealt with by the main characters, and Jennifer Morey handles their dilemmas by conveying genuine reactions packed with honest directness. Mysteries and conflicted emotions abound in A RANCHER'S DANGEROUS AFFAIR.
When Eliza Harvey-Reed was in high school, she dated Brandon Reed and even thought their relationship might turn into something permanent. But after he unexpectedly breaks up with her, she ends up leaving Vengeance, TX and goes to California to pursue her dream of being a party planner. Now she has a successful business, but her love life has not gone very well. She married the brother of Brandon and hoped to actually be happy, but David has already cheated on her in the short time they have been wed.
Since it is her brother's birthday, Eliza and her husband return to their hometown so she can plan a special party for her sibling. When they come in contact with Brandon shortly after arriving, there is much tension between the three, as all can tell the desire between the former high school couple is perhaps even stronger than before. David unexpectedly disappears after the night of the party, and then Eliza learns that he has been murdered. Since she was seen arguing with him, she is a suspect. Brandon knows Eliza could not be a killer, but discovering who was responsible is difficult when no real clues can be found.
The town of Vengeance, TX is usually peaceful, but there seems to be way too many shocking problems lately. In A RANCHER'S DANGEROUS AFFAIR, there are a number of predicaments affecting the lives of Brandon and Eliza. While some troubles are physically threatening to this couple, the ones relating to their deep attraction to each other equally pulled me into the story. The affair between these two is shown through both of their eyes, and how they feel at a particular time frequently let me know the state of their mind concerning a current incident. Theirs is definitely not an uncomplicated romance, and Jennifer Morey took much care in explaining their most private thoughts plus reasons for any responses. What presently motivates Brandon and Eliza is told along with explanations about how the past has also influenced them, and this helped me to better understand many of their reactions. The almost uncontrollable magnetism felt by them leads to moments where lust is in charge of their heatedly expressed actions. And the guilt they often feel afterward is realistically displayed with sincere remorse. The peril this couple faces is sometimes very frightening, and the many unknown factors upped the suspense of what would take place in an upcoming scene. Ms. Morey cleverly interconnects the jeopardy in the town with the personal feelings of quite a few of its residents, and the result is a story where emotions are ever-changing and often unpredictable, regardless of who is involved. There are lots of turns in the story that I was definitely not expecting, and I was certainly surprised by how everything finally concluded. A RANCHER'S DANGEROUS AFFAIR is a passionate romance filled with suspenseful threats and emotional clashes.
Print This Post
posted Sunday, January 20th, 2013