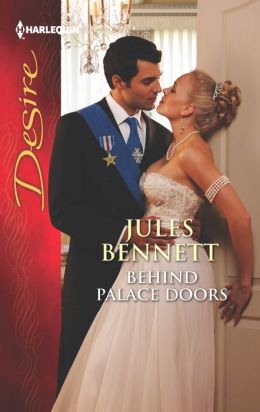 When Prince Stefan Alexander wed Victoria Dane, it was like a fairy tale. But Stefan and Victoria wed in name only. Stefan needed to secure his crown and Victoria agreed to help. While it was in name only, the passion between them could not be denied and soon the two were in over their heads. But for Victoria, she wanted love. Is that something the "Playboy Prince" can give her?
Victoria knew it would not be easy to have a marriage that was in name only. Stefan knew the same thing but also knew he wanted more. The passion grew until it could be denied and that was when the trouble began. Starting a marriage based on lies makes changing it into something different very difficult. When love blossomed, Victoria knew it was trouble for her.
Behind Palace Doors was fun and exciting to read. From a fairy tale wedding to the glamour of Hollywood, the story was perfect for dreams. For Victoria and Stefan, it was reality and not dreams. Nothing is as it seems Behind Palace Doors. Jules Bennett allowed us to visit with friends and family from the Dane family. It was nice to see how they have grown. I am sure Stefan and Victoria will do the same. Exciting, stimulating and fun, Behind Palace Doors has it all. Jules Bennett take us places we can only go in her stories.
Print This Post
posted Tuesday, March 5th, 2013