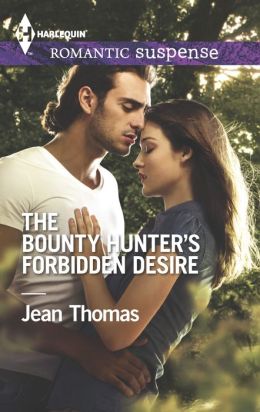 With unique developments and plenty of imagination, the suspenseful story created by Jean Thomas is original plus interesting. Though the facility described in the book is fictitious, the idea behind the place is very real and the author puts it plus the main couple in grave danger. The threats to the hero and heroine are often sudden, and this unanticipated peril often escalates with each passing day. Deciding what to do next comes with its own challenges when emotions become involved. THE BOUNTY HUNTER'S FORBIDDEN DESIRE has multiple challenges to lives and hearts.
When a stranger comes to her home saying she had not shown up for a court appearance, Haley Adams is totally confused. Though Chase McKinley does seem to be an actual bounty hunter, she has not done anything for which she would have needed to post a bond. She does not want to go with the man who knows much about her, but agrees in the hope everything can be sorted out. However, it soon becomes apparent Chase is not telling her all the facts when they end up going to a state farther north.
Upon realizing he has lied to her, …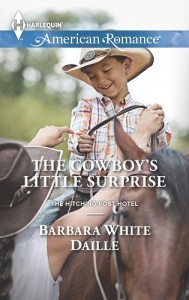 Jedediah Garland knows that family is the most important thing in the world but his family is scattered and he is feeling the loss. Just when he thinks things will never change a small glimmer of an idea gives root to a plan to gather his family back to Cowboy Creek, New Mexico. It begins with his granddaughter Tina and her son Robbie. Tina is the only one that never left Cowboy Creek, in fact she keeps the books for her grandfather at the Hitching Post Hotel. At one time Tina thought she would have a family and the husband of her dreams, but that was before Robbie's father took off after one night with Tina. He doesn't even know about Robbie. All that may change now because Cole Slater is back in town and Jedediah has put his plan in motion.
Cole never thought he would return to Cowboy Creek but his sister needs him. She is pregnant, has a four year old son and is about to be divorced. Cole was always there for his sister growing up but he hasn't been around much lately like he should have. He needs a job …
Massage therapist, Ellory Star, knows she needs a change in her life. After another failed relationship, she returns home for some time to explore herself. To that end, she resolves to not date again until she feels she is ready for more. She did not count on being snowed in with a sexy ER and rescue doctor, Anson Graves. It does not take long before she is testing her resolution and wondering if the very hot doctor is worth breaking it.
Ellory is an amazing heroine. She has her quirks and eccentricities that make her loveable in the extreme. Anson is perfect for her as he is not at all bothered by her actions. In fact, he has a few of his own issues. Watching them work out their issues and helping each other become whole make Breaking Her No Dating Rule a fantastic book to read. Amalie Berlin has penned a book that will truly amuse and entertain. Grab your favorite drink and sit down to enjoy Breaking Her No Dating Rule by Amalie Berlin. You will be glad you did.
The Latest
From the Blog
Giveaways
Interviews
Reviews
Excerpts