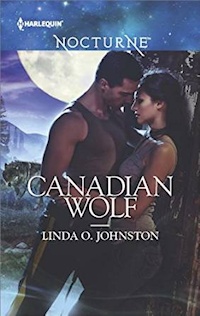 The unique shapeshifters that make up the Alpha Force top-secret military unit are helping to form a similar group in Canada. Their main function is to teach others who have shifting abilities to be useful in solving complicated cases for the Royal Canadian Mounted Police. While the heroine in the story is an Alpha Force wolf shifter, the man from Canada with whom she will be working is human and not fond of her kind. Being in daily contact with each other is rather tense at first, but sexual desire between the two grows despite their differences. Linda O. Johnston has given her shifters extraordinary capabilities, where incredible skills seem entirely believable. CANADIAN WOLF fascinates with originality.
After Lieutenant Selena Jennay is chosen by Alpha Force to work with the RCMP in creating their own unit of shapeshifters, her first meeting with Sergeant Major Owen Dewirter does not start off well. The wolf-shifter is to train other shifters for a secretive team in Canada, and Owen will be in charge of the group even though he is entirely human. While he does admit to believing some humans can change form and become a creature, he …
The Conspiracy Against the Crown miniseries begins by focusing on royalty and danger, as someone does not want any members of a ruling family in a fictional Mediterranean country to remain alive. C.J. Miller has written a very interesting story, where emotional issues and secrets hinder the development of a relationship. But when unexpected feelings become a factor in deciding the future of two people, then anything can happen. THE SECRET KING is an intriguing blend of suspense and romance.
When Casimir Cullen went to Acacia, his main reason was to extract vengeance against a neighboring king attending a royal party. However, his scheme is foiled when the king of Acacia plus the next in line are killed by unidentified assassins. A new plan must be formed, and Casimir comes up with one which concerns Princess Serena Alagona, the younger daughter who will be the next ruler of the Mediterranean country that lies between two hostile nations. It is his hope he can closely watch his enemy if he becomes friendly with the princess. After helping her during the attack, he thinks it will not be difficult to gain her trust.
Since Serena will soon lead …
Davy White is annoyed that his adopted brother has up and left the ranch. There are plenty of family members to help run the place but Davy and Ricky had plans to winter a heard of cattle that they bought then sell them for a profit. Instead, Davy will be working the cattle alone while living in a remote cabin. But Davy is surprised to find someone in the cabin that he and his family had just stocked with enough food to last the winter and that someone is holding a gun on him.
A very pregnant Rose Evans and her husband Jamie happened upon Davy's cabin and decided to rest a while despite Rose's wish to reach town. When Jamie was thrown by his horse and died, Rose was stranded on her own in the wilderness. The appearance of Davy in the midst of the blizzard was a God send. A frightened Rose soon learned that Davy was the complete opposite of Jamie. She could count on Davy to keep her safe. As the two shared the cabin during the storm, they both learned to trust each other and feelings for each other began …
The Latest
From the Blog
Giveaways
Interviews
Reviews
Excerpts