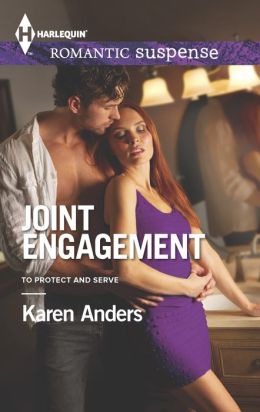 JOINT ENGAGEMENT is equally as captivating as a well-known TV show because it combines two of my favorite genres, suspense and romance. The riveting miniseries from Karen Anders called To Protect and Serve is about US government agencies who do their best to defeat threats to the United States and its citizens. What makes the current book even more appealing is the romance that unexpectedly develops during a very risky mission, catching the couple off guard and adding to the tension between them. Ms. Anders keeps the adrenaline pumping as one dilemma after another ups the peril facing her courageous hero and heroine. JOINT ENGAGEMENT never lets you take a breath once the danger becomes nonstop.
While out running on a foggy morning, Kinley Cooper hears something suspicious out over the water. As a United States Coast Guard investigator, she wants to make certain there is nothing wrong taking place and goes to check out the area. She is stunned to discover a coast guard patrol boat adrift with six deceased men aboard. The situation reminds her of previous tragic event, one extremely personal to her. But Kinley knows she needs to uncover what happened …
Several things led to physical therapist Abby Winchester traveling to Ramblewood, Texas from her home in Charleston, South Carolina. It began with receiving a cryptic note from her biological father after his death. It read simply, "Find you sister." Which was a perplexity since Abby didn't have a sister, or a least not one she knew about. But the final straw was that the hospital where she worked, once again turned down her proposal for using animals in therapy. Abby needed a break and she needed to find out if she really had a sister somewhere. The only place she could think of to start was Ramblewood, Texas, the place where she was born. So, Abby packed up her car, loaded up her dog, Duffy, and traveled thirteen hundred miles to find a sister that may or may not exist.
Acting on the advice of a new friend, Abby hires a private investigator to help her locate her missing sister. Clay Tanner is former ATF and his last assignment went horribly wrong, causing Clay to retire early and keep mostly to himself. He is now a PI but due to …
Recluse Daisy Richards avoids people at all cost because they would stare at her empty sleeve and ask all kinds of awkward personal questions. But one person has found his way around the wall Daisy has formed. New ranch hand Ricky White treats Daisy like anyone else and expects her to do things for herself. He has even made adjustments to her work areas to help her fend for herself.
Ricky hasn't told Daisy that he is responsible for the accident that took her arm but he feels that he should help her learn to cope. He once was the town drunk and ladies' man but he renounced those old ways and is learning to live a Godly life, beginning with helping Daisy. With their developing trust comes a deeper feeling for each other. Will the trust and feelings die when Daisy learns Ricky's secret?
Inspirational author Lacy Williams gently crafts a heartwarming romance between two broken souls. Ricky was lost in drink and carousing and Lacy was lost in pity for her disability. Together they found each other and through their faith found better lives. A COWBOY FOR CHRISTMAS by talented Lacy Williams is a …
The Latest
From the Blog
Giveaways
Interviews
Reviews
Excerpts