LONE RIDER
by B.J. Daniels
A cowgirl at heart, Bo Hamilton does her best thinking in wide-open spaces. So when money goes missing from the family foundation, Bo rides into the Crazy Mountains to figure things out. But a killer hiding among the sawtooth ridges takes her captive and isn't planning on ever letting her go.
Bo's disappearance gets folks thinking she's the guilty one who's run off with the money, but Jace Calder would bet his ranch that she's innocent. Not that he has any reason to trust the beautiful, spoiled senator's daughter. Still, Jace is going after Bo and bringing her home to face the truth. But in the wild, rugged Crazy Mountains, he finds Bo at the mercy of a suspected murderer. Jace is her only hope, and he's about to find out what they're both made of.
B.J. DANIELS, a USA Today and New York Times bestselling author, wrote her first book after a career as an award-winning newspaper journalist and author of 37 published short stories. That first book, Odd Man Out, received a four and a half …
Each story in the Man on a Mission miniseries has had an original premise and is frequently emotional. There have also been many characters featured in more than one book, as plots have these individuals repeatedly working together to keep others safe. In the third novel of the miniseries, a man already met has his life drastically changing after one look at a stunning woman. Neither was seeking a relationship, as their careers meant everything to them, but sometimes the heart refuses to listen to the mind. Amelia Autin delves into the harsh realities of the world while letting two people experience romance as never before. ALEC'S ROYAL ASSIGNMENT has deeply affecting emotions, chilling suspense and particularly engaging characters.
After an unavoidable incident in a Middle Eastern country, Diplomatic Security Service agent Alec Jones has been assigned to the U.S. embassy in Zakhar. Since he had previously guarded a princess from this country while she lived in America, he already knows much about the area and its ruler. Upon meeting Lt. Angelina Mateja who guards the queen, he is instantly attracted to the physically fit beauty. Though she also notices all the positive qualities about …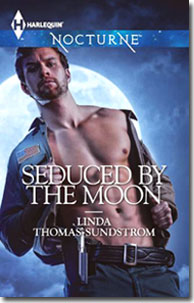 It takes talent to keep creating heroes with whom I instantly come to adore, and Linda Thomas-Sundstrom once again proves she has this skill when she created Gavin Harris. A man who has dedicated to himself to helping others along with the environment, he also has the capacity to deeply feel emotions which influence his actions. From the moment he comes in contact with Skylar Donovan, a woman who is stubbornly gutsy, neither of them will ever be the same. Secrets abound in SEDUCED BY THE MOON, and revelations are startlingly imaginative.
When Skylar Donovan traveled from Miami to a secluded cabin in Colorado, her purpose was to clear out the belongings of her father after he passed away. Though his death was ruled an accident, she is skeptical and wants to discover more about the night he died. Being alone on the remote mountain is causing her mind to conjure up all kinds of explanations for the sensual dreams she is having every night, especially since the man in them is a werewolf.
Although Gavin Harris has followed a trail to the cabin where Skylar is staying and has caught her scent, the local forest …
The Latest
From the Blog
Giveaways
Interviews
Reviews
Excerpts