Mary-Jayne Preston just came to the Sandwhisper Resort to keep her friend's store running while she tended to her sick mother. One night stands are not something she does but when she awakens in bed with Daniel Anderson, she knows she is in trouble. Their mutual attraction is powerful and not easily denied. M.J. knows Daniel is out of her league and she does not want to become just another plaything. Then M.J. discovers she is pregnant and she knows she must tell him.
Daniel is still grieving the loss of his wife and unborn child and has no desire to fall in love. He finds Mary-Jayne desirable, but refuses to love her. He insists on marriage to protect their twins, but love is off the table. M.J. refuses to enter a marriage that is not based on love.
Mary-Jayne and Daniel were opposites in so many ways. Mary-Jayne was quite spontaneous while Daniel was controlled. Daniel came from money while Mary-Jayne struggled. Mary-Jayne wanted love while Daniel just wanted passion. Passion brings them together but love must be what keep them together.
Helen Lacey will pull at your emotions as these two fight out the battle …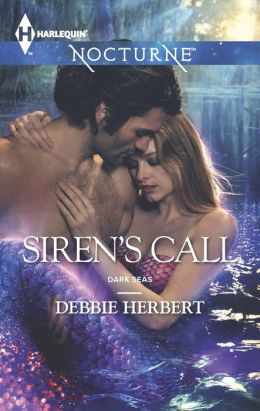 For the final book in the Dark Seas miniseries, Debbie Herbert lets her imagination rise to new heights as one original situation after another takes place. The world where mermaids live amongst humans is brought to life in realistic ways, and I repeatedly felt as though these mythical creatures just had to be true. Each of the books in the miniseries has been very innovative, and this story grabbed my attention from the start and never let go until the satisfying conclusion. SIREN'S CALL is enchantingly inventive and makes you want to believe.
Since Lily Borsage is a mermaid and has the capability to influence men with her siren ability, she has not been popular with the women in her hometown of Bayou La Siryna, Alabama. Though not always welcome, it is not her fault that the male population reacts to her anytime they come in contact. When she approaches a stranger in a store, she is stunned when ignored yet feels herself drawn to him. Upon discovering he is Nashoba Bowman, she remembers him visiting the area years ago and cannot understand why the handsome Native American does not seem to be affected by …
Sage Matthews is determined to make her fledgling cosmetics company a success. She has no room for anything else, especially not the sexy Cole Sinclair. Not to mention that he is her competition. Cole inherited his cosmetics company from his family and Sage will not let him ruin her chance at success. Their meetings are explosive and soon lead to the bedroom where these two find a lot that is agreeable. In fact, their chemistry is strong enough to ignite the bed sheets. Sage and Cole know they must find a middle ground when a third company makes a play for both companies and if they do not come to some sort of agreement, they may both be taken over by the third. Can they work together to save both companies?
Phyllis Bourne did a fantastic job bringing Sage and Cole to life. There scenes together were excellent with witty back and for the and some humor thrown in. In fact, Sage came up with some of the best ideas to promote her product. Many of them will have you laughing. Cole, though, countered excellently and the fight was on. Who wins the battle? You …
The Latest
From the Blog
Giveaways
Interviews
Reviews
Excerpts