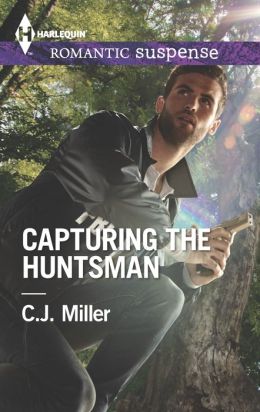 Attention-grabbing occurrences happen right from the start of CAPTURING THE HUNTSMAN, and the gripping episodes only escalate as the search for a killer intensifies. C.J. Miller has come up with frightening circumstances for her main couple to face, where danger is constantly present and could strike at any time. The premise of the story is realistic with its vivid depiction of events, as I could clearly picture the scenes as described because of the author's skilled writing. Add in quite a few conflicted emotional issues, and the result is a compelling romance with lots of suspense.
With someone killing women who hike the Appalachian Trail, it is very difficult to get anyone to rent a cabin at Trail's Edge, a campground belonging to Autumn Reed. She really needs the money that would come from anyone who needs to stay with her, but knowing a serial killer is in the area keeps hikers away. Autumn has always lived in the mountains and enjoys the natural setting, but her peaceful existence is shattered when she finds a body near her own cabin.
When Nathan Bradshaw hears about the discovery, the FBI agent comes to check out the details …
Ten years ago, Maggie Delacorte's life changed when she was assaulted. As a result, she, her brother and her best friend resolved to become FBI agents and work to protect others from the attack that she suffered. Now it would appear as if the Fishhook Rapist is returning for her. He has been sending her letters taunting her and, finally, promising to return for her. But Maggie is no longer that young woman in college. She is an elite fighter now, part of an FBI SWAT team. Grant Larkin, a member of that SWAT team, has also been assigned to work the Fishhook Rapist case and he knows he will do anything to keep Maggie safe. He fell for Maggie when they first met but knew the rules about romance with coworkers. Now with their growing attraction, they must ensure that it does not jeopardize the case. With danger escalating when her closest friends are targeted, Maggie knows she does not want Grant hurt but at the same time, she needs him by her side.
Maggie rose from the ashes of her assault and used her strength and resolve to overcome the after effect. She …
Bindi Paxton had a shot at stardom until her fiancé dumped her. Now all she wants is to get out of Las Vegas, and give herself some time to decide on her next action. The beautiful Seychelles are perfect for some relaxation and reflection. That is until, her ex-fiancé's son shows up. Santino Franco needs to find the man who left him with a career ending injury. As the former heir to the Las Vegas Slayers, Santino wants some answers and since his father has disappeared, he thinks Bindi might have them. Their attraction is not something either wants to act on but then again, how can they resist?
Lisa Marie Perry packs a lot of punch into the pages of Mine Tonight – abusive relationships, gold digging, things lost, and betrayal – all for the sake of money and/or power. It is amazing, the lengths one will go. Lisa Marie Perry also adds in maturing and taking responsibility, and, let's not forget, passion, acceptance and love. Mine Tonight has two main characters who have a lot on their plate. It does take some time to learn about their motivations and when you do you …
The Latest
From the Blog
Giveaways
Interviews
Reviews
Excerpts