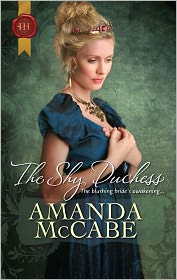 Lady Emily Carroll is a beautiful young woman but her painful shyness keeps her from making a match. She is so shy that many have dubbed her the "Ice Princess." Nicholas, Duke of Manning, met Lady Emily the year before at a house party but nothing came of it. When he finds her at masked ball, he can't resist taking a few kisses while Emily, hidden behind her mask, feels free to accept them. Before you know it, the two are betrothed. Nicholas knows that he can melt that ice on his wedding night and is determined to prove it to Emily.
Nicholas and Emily mad an amazing couple. They came together by chance and circumstance. Then built from there. Nicholas was gentle and understanding with her, just what she needed to blossom. First though, the two needed to work through a few problems of their own – secrets that could keep the ice from melting completely.
Amanda McCabe knows how to write romance. The Shy Duchess will leave you with a sigh and a smile as you enjoy the romance and tender love that grows and blooms. A book by Amanda McCabe is a guarantee of hours of entertainment both while reading and after with your own dreams of romance and love. Be sure you add this one to your list when you go next to the book store – The Shy Duchess by Amanda McCabe.
.
Print This Post
posted Saturday, February 26th, 2011